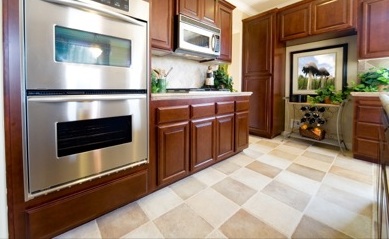 Bergen County Vinyl Flooring
Vinyl flooring is an extremely popular choice for Bergen County kitchens, laundry rooms, and any area subject to water drops or spills. With Vinyl you can mimic the look of stone, tile, wood grain and much more: there are thousands of vinyl patterns, textures & colors to choose from.
Vinyl is one of the most popular flooring materials used in certain areas of Bergen County area homes, and the reasons are not hard to see. Vinyl tiles can give you the look of ceramic tiles at a much lower price. Vinyl are long lasting, and easy to maintain. If you have no time for high maintenance wood or the budget for pricey granite, but want a floor that offers looks and durability with ease of cleaning, then a vinyl floor may be right for your home.
Vinyl flooring tiles can be used in homes as well as commercial spaces. Vinyl flooring tiles that are used in Bergen County area homes can range from basic tiles that resemble ceramic tiles and self stick tiles, to thicker, luxurious looking, marble patterned vinyl floor tiles. The luxury tiles are heavier and offer sunny, natural looking textures that resemble slate and wood. Tiles generally come in 12" X 12" sizes, although larger tile sizes are also available. Vinyl composition tiles (VCT Tiles) are used generally in commercial settings, like malls and retail stores. Patterns can range from marble-like appearances to solid color tiles, and VCT tiles are incredibly durable for high traffic areas.
Contact us today at 201-548-3777 to receive an estimate for your vinyl flooring project.